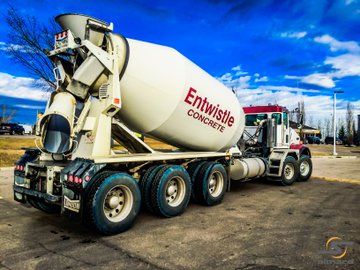 Dan McCracken has owned Entwistle Concrete Products since 1980 and have worked hard to develop a reputation of honesty and integrity. Entwistle Concrete is the largest employer in the Entwistle area and are proud to call this area home.
In the last 30 years Entwistle Concrete has grown from a primarily redi-mix operation with 2 mixer trucks to the redimix and aggregate operation it is today. We boast a tremendous fleet with 6 mixer trucks, 5 gravel trucks and numerous pieces of other equipment. During our peak season we employ as many as 26 employees.
Entwistle Concrete is steadily expanding the number of materials that we produce. Last year adding Insulating rock to the list of materials that we produce and stock. We are also flexible enough that we can produce special order materials based on quantity and notice.
We look forward to supplying the surrounding areas with concrete and aggregate for many years to come.
ENTWISTLE CONCRETE PRODUCTS Ltd.
Box 294

Entwistle
, AB.T0E0S0
(780) 727-3525
FAX (780) 727-3542
EMAIL US